ermm...entah nape lately nih i rasa semacam je...rasa sooooooooo down....then i feel sooooooooo frightened....ermm...i dunno la what has happened to me...i`m puzzled!

anyway...lets not to think about it...lets see what i`ve found..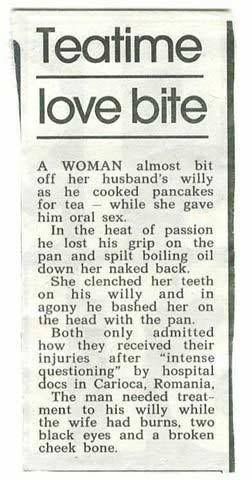 kannn??? adehh...ni pengajaran untuk semua ye....kot ye pun nak melolo sila pastikan kawasan sekeliling anda selamat ye!! kalau tak..inilah akibatnya...
haaa ni lagik satu....huhu...lain kali pastikan dulu telor uols tak kecut masa nak duduk kat mane...hahaha...pastu pastikan jugak tempat duduk tuh ok...kalau tak...sendiri mau ingat la kan??...camne la agaknye perasaan mamat nih masa tuh kan?? adehhh...

ini yang paling i tak tahan nak tergelak...aduhhhh.....gila punye pompuan...nih gersang tahap gaban nih sampai pergi ASDA pon nak pakai benda alah tuh...wakakakkaa....mesti malu gile masa polis tuh bagi balik benda alah tuh kat die kann?? Lee....uols jgn buat mcm nih occay!!...ooppss....
.